Who Are Your Five?
Download the My5 worksheet and begin creating a plan to BLESS your neighbors by clicking here.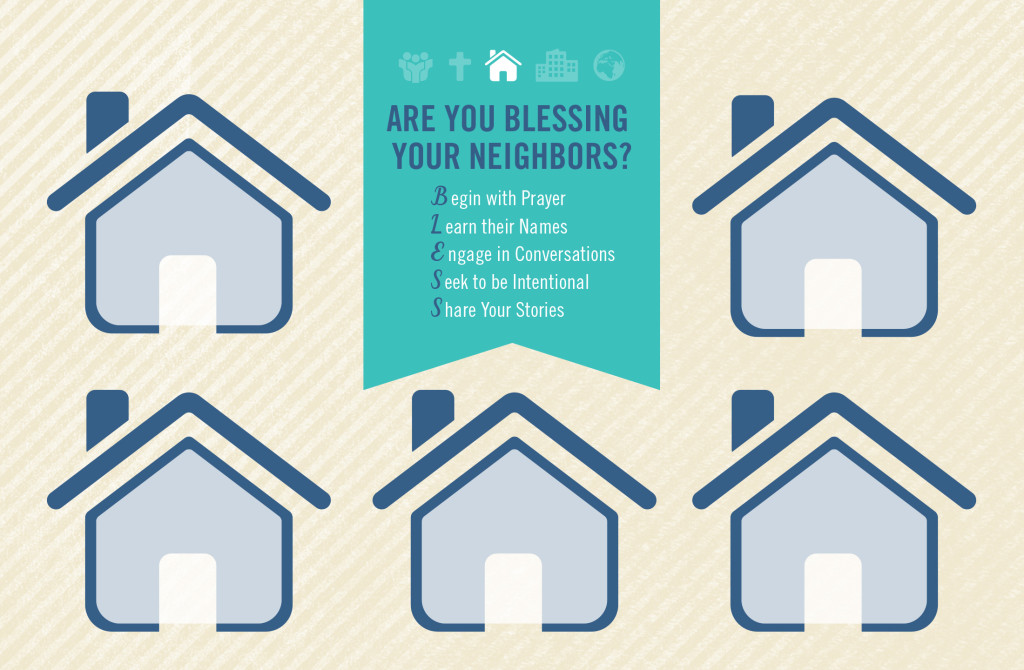 God's call to love our neighbors can feel overwhelming.
The truth is, it doesn't have to be complicated.
My Five is a simple way to begin the practice of BLESS with your five closest neighbors.
"I will make you a great nation; I will bless you and make your name great; and you shall be a blessing." ~ Genesis 12:2 NIV
Just as God blessed Abraham and called him to be a blessing to to others, we too are called as followers of Christ to be a blessing to our neighbors.
HOW TO GET STARTED:
1. BEGIN IN PRAYER
This is where it all starts. Just start praying for the people that live around you, regularly, by name, if you can. Ask God to give you his heart for the people he has placed near you. Ask him to help you see them as he sees them.
2. LEARN THEIR NAMES
Use the graphic above to fill out the names, occupations, hobbies, and interests of your neighbors. It starts with names. Don't underestimate the power of a name. "Hi, Bob!" is so much better than, "Hey, buddy!"
3. ENGAGE IN CONVERSATIONS
Even casual conversation with a neighbor can start to build a relational bridge. You are not called to win your neighbor. You are called to love your neighbor.
4. SEEK TO BE INTENTIONAL
Go for walks in the neighborhood. Grill out in the front yard. Sit on the front porch. Play in the front yard. Get your mail when your neighbor does. Learn to walk across the lawn or driveway on purpose.
5. SHARE YOUR STORIES
Learn the story of your neighbor and share yours. Where did you grow up? Where have you lived? Where have you worked? What are your favorite hobbies?
We'd love to join you in blessing your neighbors. Click here to connect with your Community Minister and learn more about BLESS.
Are you ready to BLESS your neighbors?  Register now to connect with your Community Minister and gain support and encouragement on your neighborhood journey!