Tom & Vivian Raymer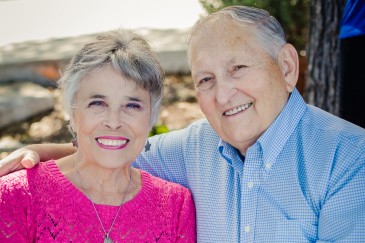 Tom & Vivian Raymer
My brother and I were raised in a family with moral values, but no church. In 1962, during his first year of college my brother met a Campus Crusade for Christ (CCC) staff member and chose to give his life to Christ. One of the first things he wanted to do was share Christ with me. For several years I rejected his efforts. Out of frustration he later told me that he turned my salvation over to God and prayed that I too would meet a CCC staff who would lead me in the same decision.
In 1968 I was, divorced, and reassigned to San Bernardino, CA. I soon met and married Vivian and began a new life. Eight months later we started attending a Methodist church.  We attended an adult Bible class at the pastors recommendation. Something began happening in my heart while studying the Bible for the first time. One evening the class instructor and his wife visited our home.
During the conversation I was confronted with the Four Spiritual Laws. That night I placed my trust in Christ. Vivian also asked Christ to be her Savior. We bought Bibles and read every night before bed. I found a new kind of love and acceptance for Vivian and people around me and found a new purpose for life. The journey over the past 39 years has been marked by frequent challenges and constant change as the Father has worked out His plan to prosper and use my life for His service.
The man, who came to our home that night, was director of Audio Visual services for CCC, the answer to my brother's prayer. He continued teaching and equipping me until his tragic death.
Contact Elder Tom Raymer: elder2@oakhillschurch.com