Ron & Sue King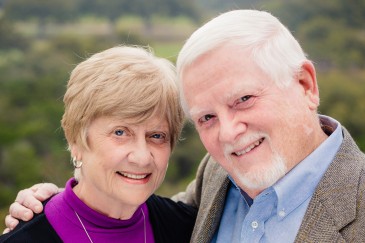 Ron & Sue King
I was born and raised in a small town in southern Ohio. My Mom and I lived on a farm with her parents while my Dad was serving in Europe and Africa during WW II. We attended a small Church of Christ during the time we were there. I married my high school sweetheart, Sue, after graduating from Ohio State, in Columbus, Ohio. The draft into the Navy took our family to Japan, California, and an oral surgery residency at The
University North Carolina. I served at many duty stations and on the largest ship in the Navy for two years. During these years of service I continued to be actively engaged in living out my faith in Christ. I retired in 1985 while serving at the Naval Academy. My next position brought me to San Antonio where I accepted a teaching job at UT Health
Science from which I retired in 2007.
Oak Hills Church became our home from the moment we arrived in San Antonio. It has been a wonderful blessing to our family ever since. We have 2 delightful daughters who live far away. We lost our 18 year old son in 1990 to a freak accident while on a missionary trip in Swaziland, South Africa. Oak Hills carried us through this stressful period. I became an elder in 1994 while the church was still worshipping on Fredericksburg Road.
I was blessed to be raised by parents and grandparents who set solid spiritual priorities. Even from an early age I was convinced that Christ should be in charge of my life (during my college years I am sure my parents must have been in constant prayer for a change in my behavior.). Looking back, our lower story is full of so many wonderful Christian families, frequent surprises and blessings. Sue and I are so blessed to be part of this community and we continue to be amazed by the spiritual, humble, and enthusiastic children of God worshipping at Oak Hills. How humbling it is to serve the wonderful people of Oak Hills…and to think heaven will be even better!
Contact Elder Ron King:  elders2@oakhillschurch.com