Owen & Becky Keiser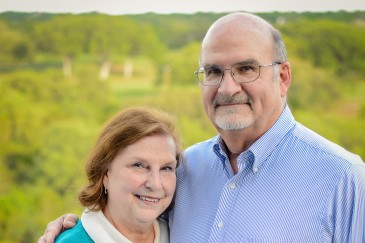 Owen & Becky Keiser
I was born into a Christian family; my parents sang in the choir, I participated in the youth groups and assisted the minister with the services. I was also the president of our High School youth group. I always assumed I was a Christian because my parents were and I was busy with Christian works. It wasn't until we had moved to Saudi Arabia and were attending adult Bible classes that I finally understood that being born into a Christian family didn't automatically make you one. Each person, as some point in their life, must decided to take that bold step and personally invite Christ into his heart and life, removing self from the throne and surrendering it all to Him; I did this in 1981.
A few years after making that decision our firstborn daughter, Kimberly, died from SIDS after being in a coma for over a month . She was 6 months old . It was both painful and tragic and it served as a reminder that the control I had always sought was an illusion.
As a Christian I know that God has a specific plan and purpose for each of us, and I find great comfort, excitement and anticipation in knowing Him.
_____________________________________________
Becky Keiser: I came to believe and confess Christ as Savior at age 10. For the next couple of decades I "rested" in the LORD. But the LORD loved me too much to leave me there. He sent us on an adventure to the desert. His intent was to redirect my attention to Him with a loud "CAN YOU HEAR ME NOW?" He grabbed our focus abruptly with several trials beginning with the death of our first daughter. At this point, Christ became my Lord and Savior giving me a passion for His Word.
The storm we faced was difficult. Our second daughter broke her leg, We had a front-row seat for Desert Storm, diabetes  diagnosis, a ruptured appendix and other less life-threatening trials followed. With each, God strengthened my faith and taught me new lessons, so much so I automatically pray "Lord, what are you teaching me now?" Yet there was still a sin that needed confessed before we left the desert: pride, characterized by my remark "Surely, God has made a mistake". After a full night of praying and wrestling with God over the matter, came His reply, "I make no mistakes". Now with each challenge Christ keeps calling me to climb higher, to know Him better and to experience His glory – I want to live in the breath-taking glory of His presence.
Contact Elder Owen Keiser:  elders2@oakhillschurch.com