Larry & Elza Marshall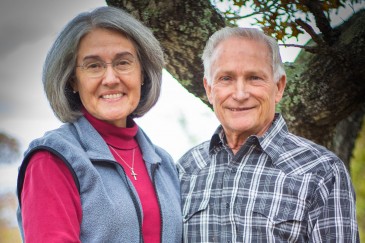 Larry & Elza Marshall
When I look back at my life I realize that I have really been blessed by God. Like Timothy, God gave me faithful parents and grandparents. In Timothy's case, Paul mentions in 2 Timothy 1:5 the faith of Timothy's grandmother Lois and mother Eunice that was passed on to him. In my case, my mother, father and all my grandparents were faithful and raised me in that faith. My parents began taking me to church when I was a baby and continued to do so for all of my childhood. At the age of 14, I came to the realization that God loved me; I had sinned and separated myself from him, but that he had provided a way of restoration through his Son, Jesus Christ. I gave my life to Jesus and was baptized on January 25, 1959 at the Telephone Road, Church of Christ in Houston, Texas.
In 1966 I met Phyllis Metcalf on a blind date. I knew that she was a gift from God and was meant to help me continue the faith of my childhood. We were married that same year and began a wonderful walk together that lasted nearly 36 years until her death following a lengthy battle with cancer in 2002. During our marriage, God blessed us with two daughters. They have each given their lives to Jesus and have married faithful Christian men. They have followed the legacy and are raising my grandchildren in the Christian faith. I love them all.
I have learned that acceptance of Jesus as your savior is just the beginning. To stay close to God, requires daily conversations with him through Prayer and Bible reading. I also need to meet with other Christians, serve them, and help lead others to salvation.
God has continued to bless me through the years with Christian brothers and sisters in the Church. Our family joined the Oak Hills Church in 1990. I found the help from those brothers and sisters priceless during my wife's illness and the months following her death. I don't know how someone could endure such a loss without the help that I received. They have continued to encourage me through the years. God has also blessed me with another Christian lady to walk by my side and help my faith grow.  Her name is Elza and we were married July 20, 2010.  She encourages me to live out my Christian faith by using the gifts the Holy Spirit has given me as she also serves the Oak Hills Church with the gifts the Holy Spirit has given her.
I serve with the elders in the Reagan Area Community and on the leadership team for the Men's Next Level group.  I am also a member of the Oak Hills Church Host Ministry. As you can see, God has truly blessed my life with family and friends to help keep me pointed in the right direction and looking forward to an eternity with Him.