Dennis & Cindy Means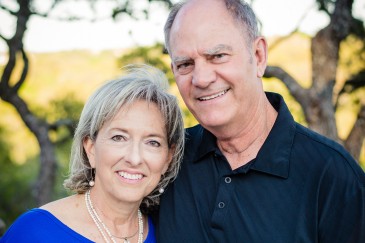 Dennis & Cindy Means
I grew up in Lubbock, Texas. My parents were good, hard working people who tried to be as "Godly" as they knew to be. We went to church every Sunday and Wednesday night was "church" night. I became a believer at the age of 12 after hearing the story of Stephen in Sunday school. I was baptized 3 years later at the age of 15.
Cindy and I married at the ages of 20 and 17 with a baby on the way. We started out on a very difficult road. God did not remove the consequence of our sin, but took something we did that was wrong and changed it into a wonderful blessing. Our children and our grandchildren are our great joy in life. Thankfully they and their spouses enjoy a vibrant relationship with the Lord and are leading their children in the paths of righteousness.
I wish I could say I had a Damascus road experience and instantly "saw the light", but my faith journey has been longer with a more gradual revelation of God's Love and purpose for my life. Making a career change from the Air Force to Southwest Airlines and later dealing with thyroid cancer, I found God to be the only One I could trust. His sovereignty, power, and ability to heal have sustained me. At these and other points in my life I have found that God loves me, wants the best for me (and my family) and all He requests of me is to trust Him. His plan is far better than anything I can dream up, let alone make happen.
I am blessed to be married to a godly wife. Cindy's influence and encouragement have been instrumental in building our life together. We are excited by this opportunity to serve our Lord and we can't wait to see what He will do.
Contact Elder Dennis Means: elder2@oakhillschurch.com